Sail the Healthy Seas with Zucchini Burrito Boats
HEALTH
Provided by Daniel Odescalchi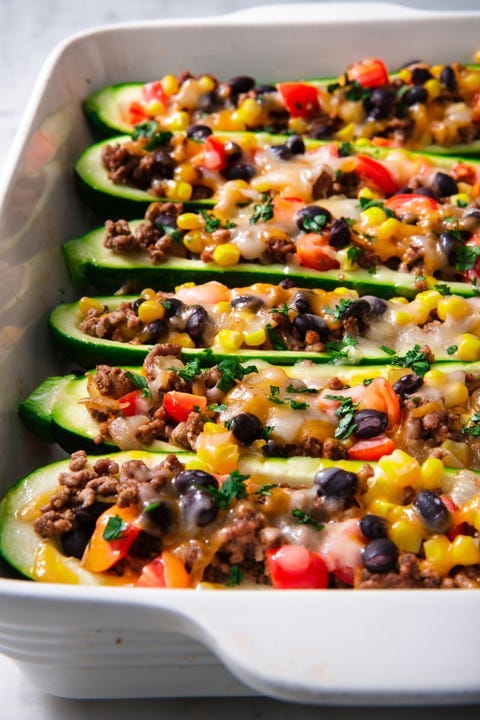 Zucchini is an unsung hero in the vegetable family. This recipe is nutritious, fun to eat for adults and kids, and a healthy twist on a family favorite.
Here is why I endorse this recipe. Zucchini can aid in weight loss and get rid of puffy eyes because of its super hydration qualities. Zucchini is 95% water by weight. It strengthens bones because of its available calcium, decreases cholesterol levels due to its high fiber content and antioxidants. It's potassium level can help decrease blood pressure and the high zinc found in zucchini can enhance hair growth. And most of all, due to its balance of vitamins, minerals, and antioxidants, zucchini can increase your immunity.
Garlic, onions, and tomatoes are excellent aids for digestion. Beans and corn together simply create a complete protein source, olive oil adds omega-3's and, if you use grass fed beef, you will super boost your omega-3 consumption.
It is delicious, presents well and is easy enough that you can impress a date even if you do not normally cook. This can be a weekly favorite.
INGREDIENTS
3 zucchinis, halved lengthwise
2 tbsp. extra-virgin olive oil
1/2 onion, chopped
2 cloves garlic, minced
1 lb. ground beef
1/2 tsp. chili powder
1/2 tsp. ground cumin
1/4 tsp. paprika
1/2 c. black beans
1/2 c. chopped cherry tomatoes
1/2 c. corn
2 c. shredded cheddar (or your favorite substitute)
Kosher salt
Freshly ground black pepper
Freshly chopped cilantro, for garnish
DIRECTIONS
Preheat oven to 350°. Score zucchini (like you're dicing an avocado) and scoop out insides, reserving them for later. Place zucchini halves cut side-up into bottom of 9"-x-13" baking dish and drizzle with 1 tablespoon oil; season with salt and pepper. Bake until zucchini turns bright green and is just beginning to soften, 10 minutes.
In a large skillet over medium heat, heat oil. Add onion and reserved zucchini and cook until soft, about 5 minutes. Stir in garlic and cook until fragrant, about 1 minute more. Add ground beef, breaking up the meat with a wooden spoon. Cook until beef is no longer pink, about 6 minutes. Drain fat.
Stir in chili powder, cumin, and paprika, then season with salt and pepper. Stir in black beans, cherry tomatoes, and corn.
Spoon beef mixture into zucchini then top with cheeses. Bake until zucchini is just tender and cheeses are melted, about 15 minutes. Garnish with cilantro before serving.
(recipe courtesy of Delish.com)
Visit Healthier2gether.com for more healthy recipes and free webinars on weight loss and healthy living.